Guess who just signed on to play Trevor in the
Minder
movie?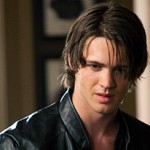 What? You didn't know about the
Minder
movie deal? Well, that could be because:
A) My lawyer said I couldn't talk about it until everything was official
B) We kept it quiet until we could officially attach Mary Alton to do Maddie's telepathic voiceovers
C) It's April Fool's Day, so none of this is real
D) Both A and B
And the winner of the
Graceling
giveaway is...
Congrats! I'll send you an email to set up delivery.
Happy Weekend!